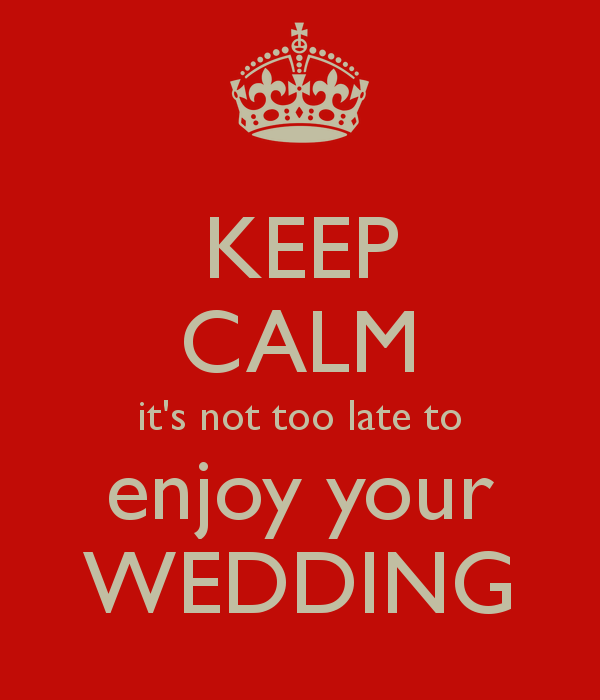 There must be something in the air this year. In the last few weeks, more than a handful of couples (or their moms) contacted us looking for a Day Of wedding planner for a very fast approaching wedding. The weddings are this year, this summer and in many cases less than four weeks a way. Keep calm brides-to-be (grooms, moms and maids of honor) it is not too late to hire a Day Of wedding planner. You are almost at the altar, the planning is done, DIY decor is sitting in boxes, friends are packing their suitcases and your shoes are ready for dancing. Day Of wedding planners are here too help make the vision of your wedding day a reality. Be sure to ask for custom packages since the date is so close, knowing your specific concerns are addressed will save you stress. This close to your wedding date here are the top five reasons why you should still hire a Day Of wedding planner: 1. Enjoy your wedding day. Peace of mind that all your planning will come together as you envision. The father of the bride wanders off just before the father-daughter dance, your Day Of wedding planner will find him and make sure he has his dancing shoes on.
2. Someone else to answer questions. You sip champagne while someone else answers questions from vendors, keeps the day on schedule, guides the guests from the ceremony, to cocktail hour, to dinner, to dancing and away at the end of the night.
3.  A pro to handle last minute snafus. Every wedding has a few unexpected snafus and a Day Of wedding planner can keep attention away and usually solve the problem before anyone knows (even the bride and groom). Snafus range from sudden wind blowing the escort cards away to running out of toilet paper in the bathrooms to non-functioning generators.
4. A smooth ceremony. Your Day Of wedding planner can quickly and efficiently run your ceremony rehearsal so that you can get to your welcome dinner. More importantly you can walk down the aisle with a huge smile knowing that everyone is standing where they should be, when they should be.
5. Wedding emergency kits. Wedding planners come armed with a tote bag full of items to mend, glue, re-write and fix endless situations. Did you know white chalk will conceal stains and smudges on a wedding dress? Your Day Of wedding planner knows that and has white chalk in her bag.