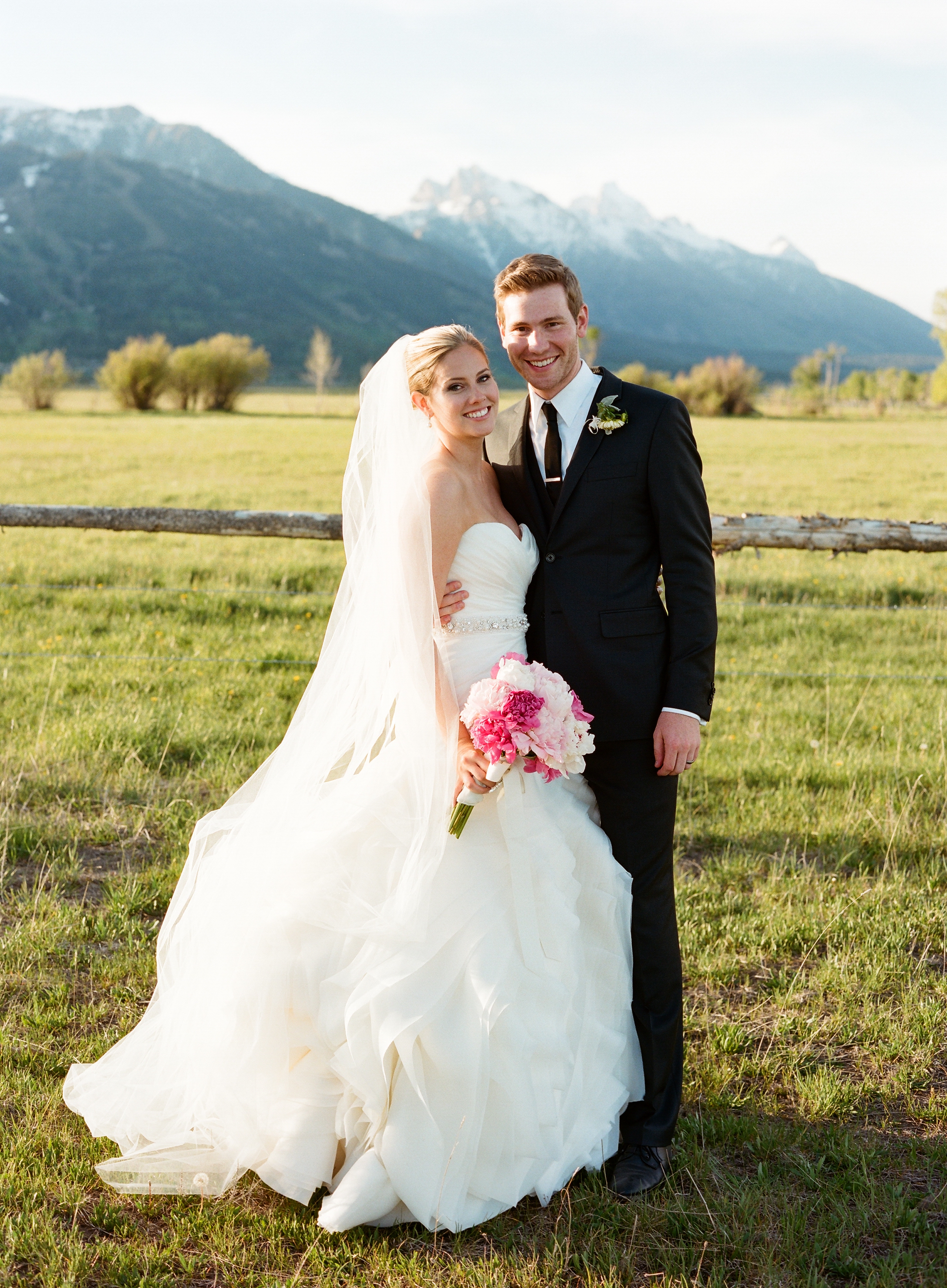 Maddie and RileyJune 1, 2013
Within 15 minutes of meeting Maddie, I knew it was my sole mission to make sure that I figured out a way to get these beautiful star lanterns she had purchased hung for her wedding reception. I also learned that she was super organized and had an amazing vision for her wedding.
After their many travels (domestic and abroad), Maddie and Riley chose Jackson Hole as the location for their wedding and Shooting Star for its casual, rustic, relaxed atmosphere. It turned out to be the most beautiful spring day in the Tetons. The sky was blue, the sun was warm and the breeze was pleasant.
Maddie and her bridesmaids started their day getting ready at Frost Salon while Riley and his groomsmen got ready at his parents house. While getting ready, Maddie read a letter Riley wrote to her saying "I cannot put in to words how excited I am to see you." In return she wrote him a letter he read saying "I love you more deeply than I knew was possible." What an amazing and thoughtful way to start your wedding day!
The ceremony began with Maddie and her dad walking out of the beautiful doors of the Alpine Barn, being welcomed by friends, family and her husband to be. The I do's were said and Maddie and Riley went off to Snake River Ranch to capture the sunset and each other in all their glory. Meanwhile, guests enjoyed food and drinks out on the lawn looking at the beautiful Jackson Hole Mountain Resort. Dinner and toasts ensued including a wonderful welcome speech from Riley and Maddie, a tear-jerker from Maddie's parents and a surprise slide show from Riley's brother and best man.
The night continued with dancing and a very special 65th wedding anniversary dance for Maddie's grandparents. It was beautiful!! The stars hanging from the ceiling twinkled as the night got darker and darker and the dancing began. It looked like a perfect night sky over the dance floor. You can't have a night under the stars without milk and cookies!!
And to finish it all off, guests sent them out in style to their mini cooper with sparklers. It was a sparkling end to a sparkling evening under the stars.
http://vimeo.com/67817130
Caterer: Maho Catering Ceremony: Shooting Star Ceremony and reception music: Phil Round and the Snake River Band Reception: Rancho Alegre Dessert: Persephone Bakery Florist: Gild the Lily Too Hair and Make-up: Frost Salon Photography: Carrie Patterson Photography Transportation: Limo Lounge Videography: Jared Wortley Films Wedding Coordinator: Events, Etc.