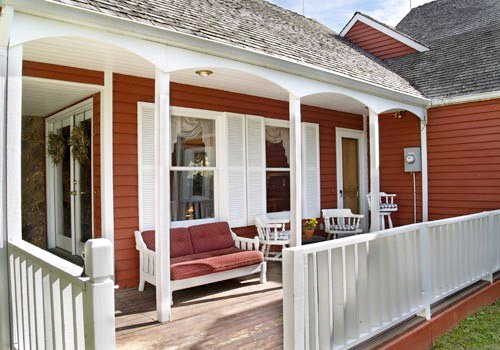 Reception Location (has space for ceremony also)- Ranch Alegre Lodge
The beauty of Rancho Alegre Lodge is that you have the comforts of a home where you can relax and enjoy the natural surroundings, relax in the spa room or outdoor jacuzzi (that looks out at the Teton Mountain range), and enjoy a crackling fire.  Imagine a Jackson wedding here where your whole family could stay together in one charming house. This would also be the perfect place for a small destination wedding where all the guests could stay under one roof and still have the privacy of a bed and breakfast. Rancho Alegre is open year round so it is perfect for a winter or summer wedding. The also have friendly farm animals that are fun to interact with!  Raymond the steer, Leon the sheep, Cinco and Jack our Shetland Ponies.
Mid-stay housekeeping service (for bedrooms, bathrooms and kitchen), private concierge, and an ample breakfast served daily are all included in the rate.  For breakfast we make sure to provide you with as many homemade items as we can; oatmeal, granola, zucchini bread, banana bread, muffins, etc.
The Rancho Alegre home also has an upper and lower deck spacious enough for everyone to enjoy a relaxing sunset followed by the beautiful night sky.  The milky way and many constellations are easy to spot.  You are guaranteed to see shooting stars!  All of the Jackson Hole activities (rafting, golf, biking, hiking, Grand Teton National Park) are within close proximity (7-35 min drive) to the lodge and the amenities of town are just a 10 minute drive away.  Rancho Alegre Lodge and Jackson Hole offer a fabulous getaway for a mountain wedding and a most memorable Rocky Mountain experience!
Did you know? Rancho Alegre has fresh organic eggs each morning for guests its very own 24 chickens.
Learn More
Rancho Alegre Lodge Shanna Stegman
3600 S Park Loop Rd
Jackson, WY 83001
(307) 733-7988
Photos provided by Rancho Alegre