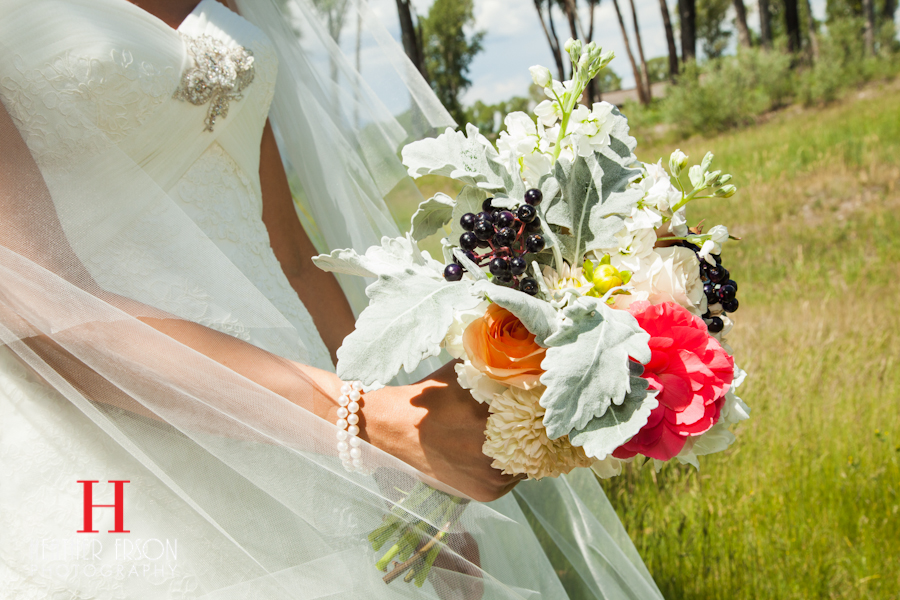 Lisa and Jesse, July 7, 2012 People start to plan their weddings at various increments before the big day. It is rare for people to book vendors more than a year in advance. It is also rare for it to the first time in Jackson Hole for 99% of the people at the wedding. Both of these were the case with Lisa and Jesse's wedding.
In June 2011, I received an email from a gal in New York City who wanted to get married in Jackson Hole in 2012.  Her fiancé had visited Jackson Hole when he was 14 years old, they love outdoor activities wanted a destination wedding.  A week later we met on the phone for the preliminary meeting. To my surprise she already had a handful of her vendors booked and narrowed her venues down to two choices. She booked with Events, Etc. a few days later and we were in contact throughout the year until I met her on Monday, July 2, 2012. Little did I know back in June 2011 of the fun, excitement and celebration I was signing up for through the next year.
So for the next year I would check in with Lisa via email to see how her planning was coming. We had the standard three-month out meeting and final walk through when she arrived to town. She asked all the questions you ask if you were planning a wedding in a location you had never visited: How far is it from town to Jackson Hole Golf and Tennis Club? Can you recommend a photographer? Can you recommend a florist? Where is the best place to eat in town?
Lisa's emails were always thorough. No detail was over looked. Her wedding day timeline was down to what happened at 5:10pm, she had photos of how to set up the décor, spreadsheets for what decor the florist would supply and what décor she would supply, a schedule for the week of the wedding and more. She went on Etsy to find decor to personalize the wedding and what she could not find online she made herself.  She was not being a micro-manager, instead she was being detail oriented and a planner- two things that make a bride wonderful to work with.
Finally the big day arrived, July 7, 2012. I arrived at Jackson Hole Golf and Tennis Club that morning and my assistant and I immediately got to work setting up all of Lisa's Etsy and DIY décor. It was all very personal, thoughtful and tasteful. The items she made herself were professional looking.  All of the items were thoughtful and hand-picked, down to the lace from her mother's veil wrapped around the stems in her bouquet.  The wedding day flowed perfectly in synch with the timelines, spreadsheets and photos Lisa created. It even rained after the party moved from the patio to the tent, as if she had planned it that way.
I pretty much always shed a few tears when my brides walk down the aisle. However it is rare for me to shed tears, during the toasts, first dance and mother-daughter dance (that is not a type-o, there was a touching dance with the mother and bride, a true testament to their bond). I don't think I have ever had to try so hard to keep it together at a client's wedding.
This wedding was truly not just a day of love, but love filled the whole day, down to every last detail.
Ceremony and Reception: Jackson Hole Golf and Tennis Club Ceremony music: String Lake Duo Florist: Briar Rose Hair and Make Up: Body and Soul Officiant: Tom Jordan Photography: Heather Erson Photography Reception Music: Steady Jake Transportation: AllTrans and A Black Tie Service Videography: Mountain Media Wedding Coordinator: Events, Etc.